One of the questions I am asked almost daily at Always A Good Day is; "I want to go fishing in Alaska. How do I know if I am picking a good fishing lodge?" My perspective is based on a guide's view, not as a client's experience. In a previous life, I was the head guide at the oldest fly-out lodge in Alaska I heard complaints, kudos, and concerns from the newbie clients and the year-in-year-out return clients. It is from all of these clients (many of whom are now friends) and my experiences working in the fly-out fishing lodge industry that I draw from to answer this question.
Fly fishing is like truth serum, honesty flows from an angler's mouth like the water flowing around his or her legs when they are standing thigh-deep in a stream. I have talked about everything, failing marriages to my opinion on Keynesian economics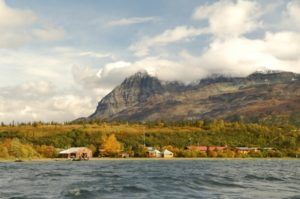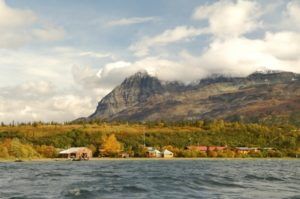 while changing a fly or releasing a trout. Often the conversations would turn towards the client's fishing experiences in other locales or at other lodges. When asking a guest how they picked our lodge out of the hundreds in Alaska the most common answer I got was; "The lodge sits on a river that fishes all summer."
Is There Fishable Water Near The Lodge?
If you haven't been to an Alaskan fly-out fishing lodge then you probably have an idyllic vision of what to expect. You have seen pictures on the web of grand log buildings with smiling patrons having a cocktail on the deck watching huge trout rise in the river out front. Unfortunately, this is not the norm for many lodges. Many fly fishing lodges don't sit on or even near fishable water. Flying to your fishing destinations is part of the romance of fishing in the North. Weather happens everywhere, almost every day, and Alaska is no different. The problem is that the weather can be extremely severe and localized. The winds can blow so hard that you can't stand or the fog can settle in for days. Guess what? You don't get to fly-out those days.
What happens if you can't fly one, two, or even three days during your stay at a lodge that doesn't have local water? Gin rummy or cribbage tournaments will not quash the thoughts that will be going through your head about how much you are paying to play cards. Fishing is why you came. Fishing is what you should be able to do even if the flying conditions don't let you get out to a chosen destination.
What Kind Of Fly Fishing Gear Do They Provide?
Fly fishing lodges aren't in the business to make their guests unhappy. One of the ways you can tell the quality of the lodge is by their equipment. This starts with the condition of their aircraft, trickling down from there to the lodge's boats, rods, waders, and accommodations. Asking what brand of fishing gear the lodge provides will give you an indication of what to expect. For example; if the lodge provides high-quality gear like Simms Waders and Winston or Scott rods for its guests, this might indicate that this lodge might be the one.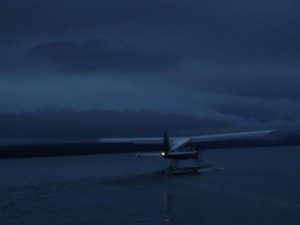 Ask the lodge about the aircraft. I had one client tell me he picked our lodge because he had talked to the head aircraft mechanic. He said that he felt very reassured by his professionalism when it came to the aircraft maintenance so he figured it must carry over into the whole business. Good airplanes and good pilots are huge determining factors in the safety and success of your trip. Don't be afraid to ask.
What Extras Are Included In Your Package?
It is your first day fishing in Alaska and you caught the largest rainbow of your life. The adrenaline is pumping as you get into the airplane. You can't wait to get back to the lodge to brag a little at the bar. After cleaning up a bit you go to get a cocktail. The cute bartender makes your Martini just the way you like it, two olives and extra-dry. As you turn to go tell a contingent of guests about your day the bartender clears her throat like a bull moose. You turn around and she tells you to initial your tab. "Tab?" you think to yourself as you initial somewhat stunned. At the end of the week, you almost have a stroke when you go to settle your tab for the week.
Read the small print or ask what exactly is included in your trip. I went round and round with people over charges they thought were included in their stay. Some lodges include flies and licenses, some don't. Alcohol is a biggie. Many lodges include alcohol or some alcohol in the package, some don't. There can be fuel surcharges that can vary depending on fuel costs and these can add up. Ignorance of what is included in your stay might have you end up spending thousands more than you intended.
Always Ask a Friend
Word of mouth is the best way to find a lodge. Find someone you trust who has been to Alaska. Your local fly shop can also be a good resource, but don't let them sell you on a trip they are hosting without investigating the destination for yourself.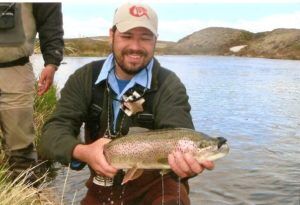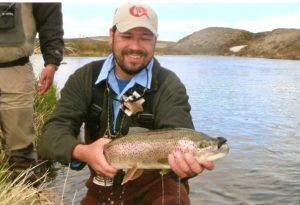 Online reviews are something that I would look at but not give too much weight (some reviews are fake and some are by people who make complaining a vocation).
In the end, trust your feelings about who you choose or don't choose. Call the lodge, bug them with questions about food, or how many flies you should bring with you. Get a feel for how much they value you as a guest. Build a relationship with the lodge before you book your trip. A fly fishing trip like this one can be more expensive than a wedding and you should make your decision with almost as much thought and consideration.